Hey! What's up?! It's been a while since I posted a blog.. I've been side-tracked with work (Thought Media), launching projects, and selling my 2nd home/loft in down town Toronto. I've decided to get out of all the craziness, traffic, and concrete jungle to move out to the suburbs by the water.
Many people were surprised I decided to move so far out of the city, and I can tell you there's several very logical reasons for doing so. Firstly I've reached the age of 29 and feel that the life I am is asking to be with nature, asking to be near water, and asking for peace. The Tao Te Ching (Book of The Way) speaks of reconnecting with nature, living close to the earth and water.. I feel my life's path has lead me in this direction as the flowering of my conciousness continues to unfold day by day.
I continue to train in powerlifting and have setup an awesome home gym in the garage of the house I reside in. This will enable my physical growth (that is manifestation) on this plain, while keeping to the oneness I am internally. I change and grow with the seasons, day by day, month by month, year by year.. everything unfolds into itself and cycles back. Time has become a human commodity which I can embrace when I choose to, and set aside when it is not being resourceful to me. I feel that I can foresee great things in my future; most of which includes helping my fellow man achieve great things. That is why I continue to post youtube videos, instagram pics, and all that social media 'stuff'.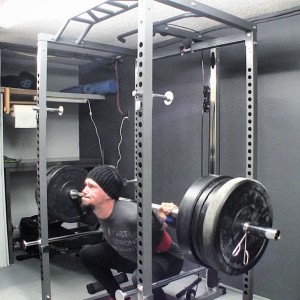 Coinciding with powerlifting I have decided to return to training in Tae Kwon Do, which I had previously done for 9 years achieving the level of 1st Degree black belt. These two, coupled with yielding meditation and yoga, will grant the physical and mental strength to achieve things throughout my life that others may think are impossible. I hope to share this journey with you as I move along, and influence others to improve themselves physically and mentally as well. That is after all our purpose in life, to blossom into the beautiful concious beings which is inherit in our nature.
Over the coming months I'll be posting more and more on youtube sharing progress and helping others. If you ever have any questions (about anything) or feel you need some guidance, I'm more than happy to help. You can contact me on the facebook fanpage or comment on a youtube vid.
Thank you as always for watching, subscribing, and coming along on this journey.
-ae
Instagram: http://instagram.com/itsadamevans/ (Health & Fitness, and more)
Twitter: http://www.twitter.com/itsadamevans (Internet & Technology)
Google+: https://google.adamevans.ca
Facebook: http://facebook.com/itsadamevans
Website: http://www.adamevans.ca
Pinterest: http://pinterest.com/itsadamevans/
Tumblr: http://itsadamevans.tumblr.com/ (Health & Fitness, and more)
Linkedin: http://www.linkedin.com/in/adamnevans